Chopping Board Blog
Within this blog I will list out the process I follow to create the lovely looking and super smooth stripey wooden chopping boards.
Carefully select the types of wood to use, to contrast in colours
Choose the size of chopping board your project will make (18″ x 12″ seen below)
Cut all wood 1/2″ longer than the width of board you want to create
Use an extra piece of wood at each end of the board to prevent damage from vice
Cut all slats to the same depth, I use 34 mm as a depth for example
Glue slats together whilst resting on 2 x long vice
Glue boards together with an extra 1 inch in length to allow for compression
Use a large heavy board to rest on top to stop warping
Use 2 or 3 more grips from above to compress fully
Tighten all grips again after 30 minutes to allow for glue seepage
Leave for 2 days for the glue to fully harden
Undo all grips and remove the protective slats
Sand off excess glue
Cut to final size required
Sand top and bottom of board and all sides from 120 to 800 grit
Moisten board with a damp cloth and sand again to 800 grit
Repeat moistening and sanding up to 10 times to remove grain
Finally soak the board in Mineral Oil to protect the wood
Leave to dry and store flat
Flip board twice weekly for a month to ensure no warping
That is the full process for the construction of a stripey wooden chopping board
I will be creating several further examples this year using some very rare wood I have purchased. Purple Heart, Iroko and Paduak these are very distinctive colours, purple, deep brown and orange.
Below is an example of a stripey chopping board I created using the exact process detailed above.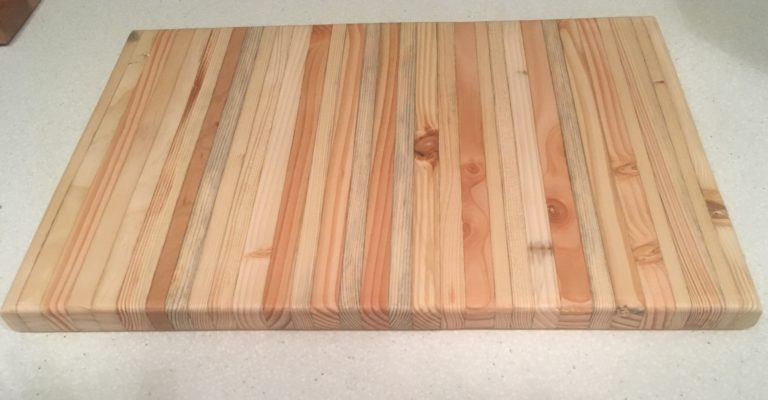 If you would like more information on our products and processes, please contact us